As a California business owner, you likely have a fierce competitive nature brewing underneath your calm exterior. Most successful people do. It's what gets you up in the morning, keeps you on schedule, and guides you to make good decisions. Without that competitiveness coursing through your veins, you might end up leasing a fleet of lackluster commercial trucks that barely meets your needs.
Don't fall victim to an acute bout of Bad Decisionitis when picking your work truck fleet in Van Nuys. Check out all available models. Analyze the best work truck features for your industry. Research until sentences become onebigjumbledmess. Or simply follow along as we compare the new Nissan TITAN to the Toyota Tundra. Then contact our commercial fleet dealership to schedule a test drive.



Standard & Optional TITAN Features
The TITAN SL Crew Cab is an exquisite specimen. It includes several standard work truck features that the "comparable" Toyota Tundra Platinum doesn't, including:
Running boards
Delay-off headlights
Programmable exterior lights
Nissan Intelligent Key
AC power outlets
Remote start
NissanConnect
Rain-sensing windshield wipers
TPMS
Advanced Drive-Assist Display
Deep center console
Seven-speed transmission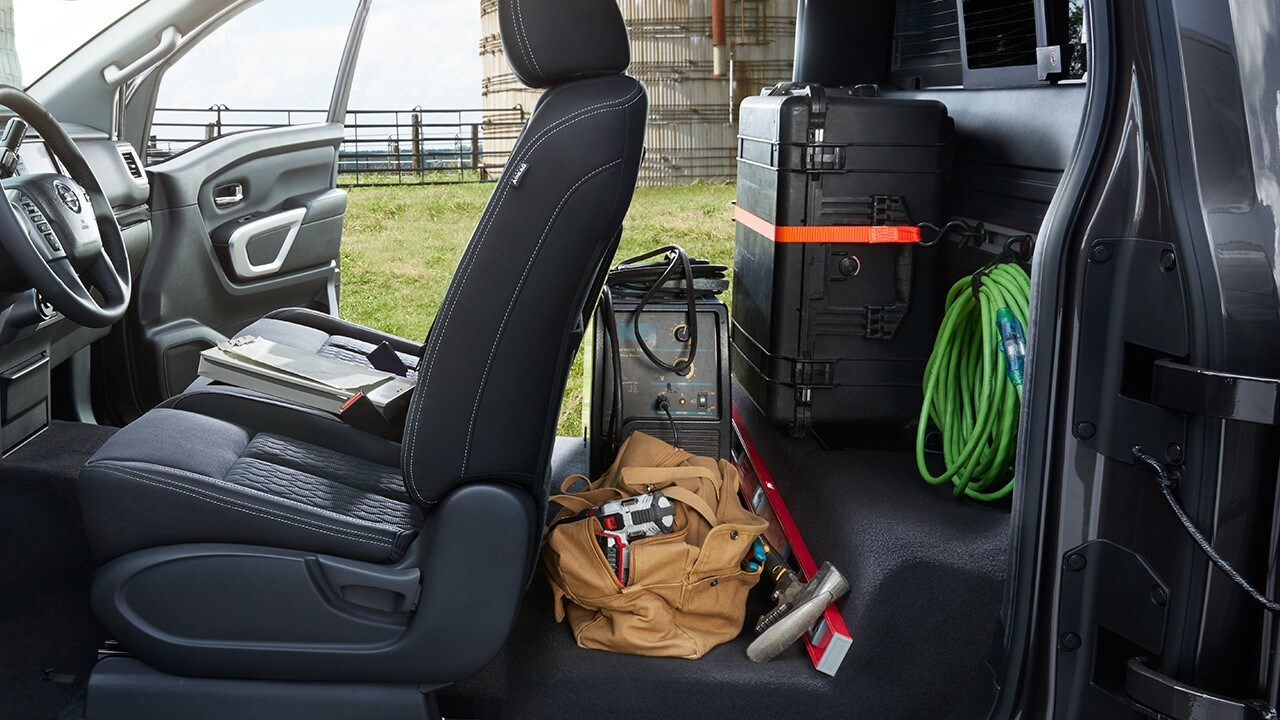 Additionally, you can build your Nissan work truck with any of these TITAN-exclusive features:

Rear storage compartment – Built under the rear 60/40-split seat, this storage solution includes a tray and cargo organizer.
Work desk – Toss the rear seatback flat to unveil a convenient mobile workstation. Cord up the laptop using the central AC outlet, or go battery-only mode if you're feeling lucky.
TITAN Box – Nissan's premier in-bed storage containers are easy to access from the side, lockable, and as durable as the day is long. Just remove them to expand the width of the bed when needed.
Utili-Track Channel System – resilient aluminum-alloy cleats can be slid up and down the track to secure a variety of gear and work tools.
Rear Seat Delete – Certain TITAN trims can be equipped with the segment's first "seat delete" feature, allowing you to remove the entire rear bench and heating duct, raising the truck's cargo capacity immensely.
While the 2018 Toyota Tundra is a capable work truck, it lacks the refinement to compete with the new TITAN.
TITAN vs. Tundra Performance
Both commercial trucks have similar V8 power plants under the hood—the TITAN offers more horsepower while the Tundra makes slightly more torque—but it's the fuel tank that puts Nissan in front of Toyota.
With the Nissan TITAN, you and your crew will get an estimated 21 mpg on the highway. Work trips from San Fernando to Los Angeles and back again will result in fewer visits to the pump. The Tundra, on the other hand, tops out at 19 mpg when flying up and down the L.A. freeways.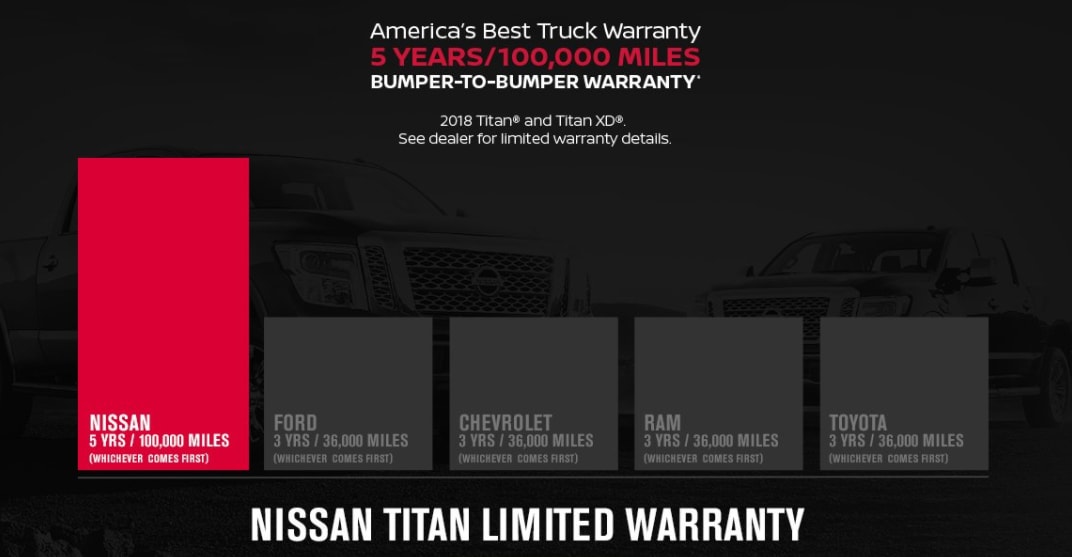 An Unbeatable Nissan Truck Warranty
Protect your commercial fleet with the best truck warranty America has to offer. While the Tundra comes with a standard 3-year warranty, every TITAN financed or leased through our Van Nuys Nissan fleet dealership includes a 5-year/100,000-mile limited warranty, which covers the cost to replace any faulty components with authentic Nissan parts. That's a bumper-to-bumper warranty we can get behind.
Personalize a Fleet of Nissan TITAN Trucks in Los Angeles
There's a reason why the Nissan TITAN has been climbing the truck segment's leaderboard so quickly. Not only does it outpace the Toyota Tundra, but it also makes quick work of most other full-size trucks in its class. Not a small feat, believe you me.
Add some TITAN trucks to your vehicle fleet, and half your job will already be finished. Contact Nissan of Van Nuys, your certified commercial Nissan dealer serving Los Angeles, CA, to get a quote, schedule a test drive, or discuss our fleet financing and commercial Nissan lease options.
Sources & Photos:
https://www.toyota.com/tundra/
https://www.nissanusa.com/trucks/titan