You've got the brand. You've got the website. You've got the right fleet of Nissan vans (hopefully). But are you advertising your business effectively? If you aren't taking advantage of your vans' exterior real estate to promote your company around Los Angeles, the answer may be a resounding "no."
Fear not, business owner, for there is a perfect solution to your advertising conundrum: Custom commercial van wraps. Here's how to transform your company's Nissan vans into mobile billboards without sapping all the funds away from your marketing budget.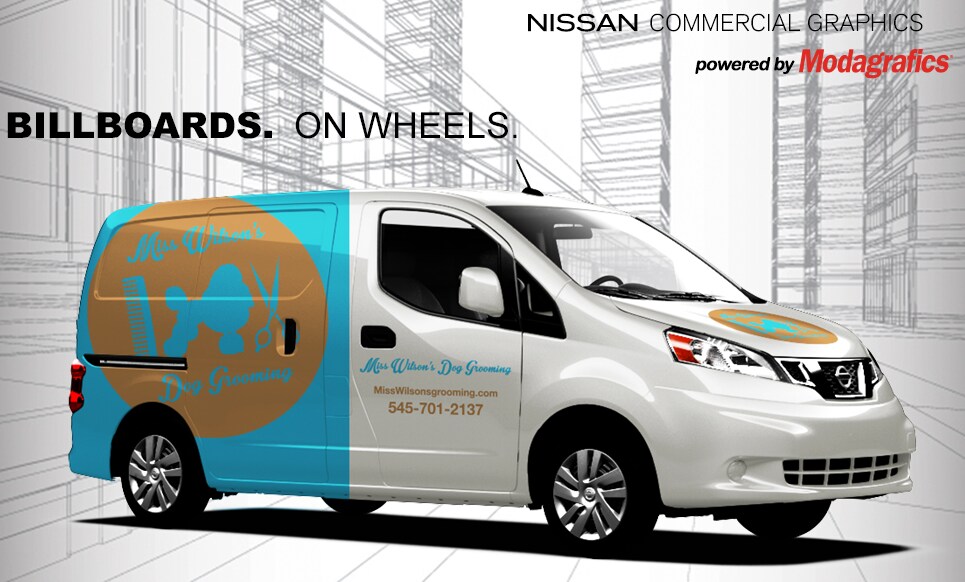 Commercial Vehicle Wraps by the Numbers
According to the Outdoor Advertising Association of America (OAAA), a commercial van graphic offers the lowest cost-per-impression (about $0.04 per 1,000 impressions) when compared to other traditional marketing campaigns, including digital, print, radio, and TV.
In Los Angeles alone, you can expect to pay 500% more for a stationary billboard than you would a company vehicle wrap. Considering that just one wrapped Nissan van can potentially generate over 100,000 daily impressions in L.A.—more than 23 million Los Angeles drivers could result in hundreds of thousands of dollars of additional leads—is it any wonder why business owners are turning to their vehicles to advertise? There's just too much brand visibility there to pass up.
Nissan Van Graphics: Recommended Best Practices
When in doubt, KISS (Keep It Simple, Stupid). A good commercial wrap design should include just five basic elements: A logo, slogan, website, call to action, and phone number.

For small businesses, adding personalized graphics to your commercial vans will keep you on an even playing field with the big-name franchises in your industry. They can afford to spend thousands of bucks a month on digital advertising, but the cost to brand their vans is relatively the same as yours.

As a 24-7 form of passive advertising, your Nissan van graphics will stick out wherever and whenever to whomever. However, you'll want to park your company vans in highly visible places to maximize exposure, such as in front of building entryways and other locations within your local service area.
Use contrasting colors for an alluring pop of brightness, but avoid "noise" at all costs! A messy van overcrowded by flames, lightning bolts, and bubbles doesn't usually inspire consumer confidence.
Reduce your advertising copy as much as possible. Unless you're sitting in traffic on the 405 for hours, most drivers aren't going to read the tiny print on your Nissan NV. Fewer letters means more space for the important details, like your phone number, website, and a call to action.
Don't add photographs. Just don't. Instead, use special vector images that can be resized as needed. A professional graphic designer should be able to help you, as can the staff at our Van Nuys commercial Nissan dealership.
Be creative. Just like viral videos, memorable van graphics can do wonders for a business.
If you're struggling to decide on your commercial wrap messaging—it can be difficult, we know—or simply need help choosing a fleet of passenger vans near Los Angeles, our commercial car dealership is here to lend a hand. At Nissan of Van Nuys, we routinely assist our customers in personalizing their Nissan NV cargo vans, trucks, and cars with customized graphics. And we do it with a smile!
For more details about our Nissan van wraps, upfit packages, or inventory of commercial Nissan vehicles, please contact us at 866-267-2092. As one of the premier Nissan Business Certified Dealers in California, we're here to put your brand in the spotlight.
Photos & Sources:
http://oaaa.org/NewsEvents/News/Marketing/tabid/324/id/1259/Default.aspx
https://quickbooks.intuit.com/r/local-marketing/are-vehicle-wraps-a-good-investment-for-your-small-business/
https://www.plumbermag.com/how-to-articles/trucks_service_graphics_vans/why_your_service_van_wrap_design_stinks
http://www.nissancommercialvehicles.com/wrap-your-nv?tool=global.wrap.link