The 2018 Nissan Frontier is America's most affordable small pickup, but its acclaim stretches far beyond a price tag. When compared to rival compact work trucks, the Nissan Frontier boasts a wealth of class-defining features that put it far ahead of the pack, including a versatile back seat, 4x4 capability, and a unique Flexible Fuel Vehicle option that allows you to fuel up with E85, unleaded, or a mixture of the two. Talk about a versatile work truck!
For California SMBs and renovation companies on the search for the best small truck to lease in Los Angeles, the answer is simple: Choose the new Frontier. Here are five big reasons why your fleet should be full of Frontier pickups.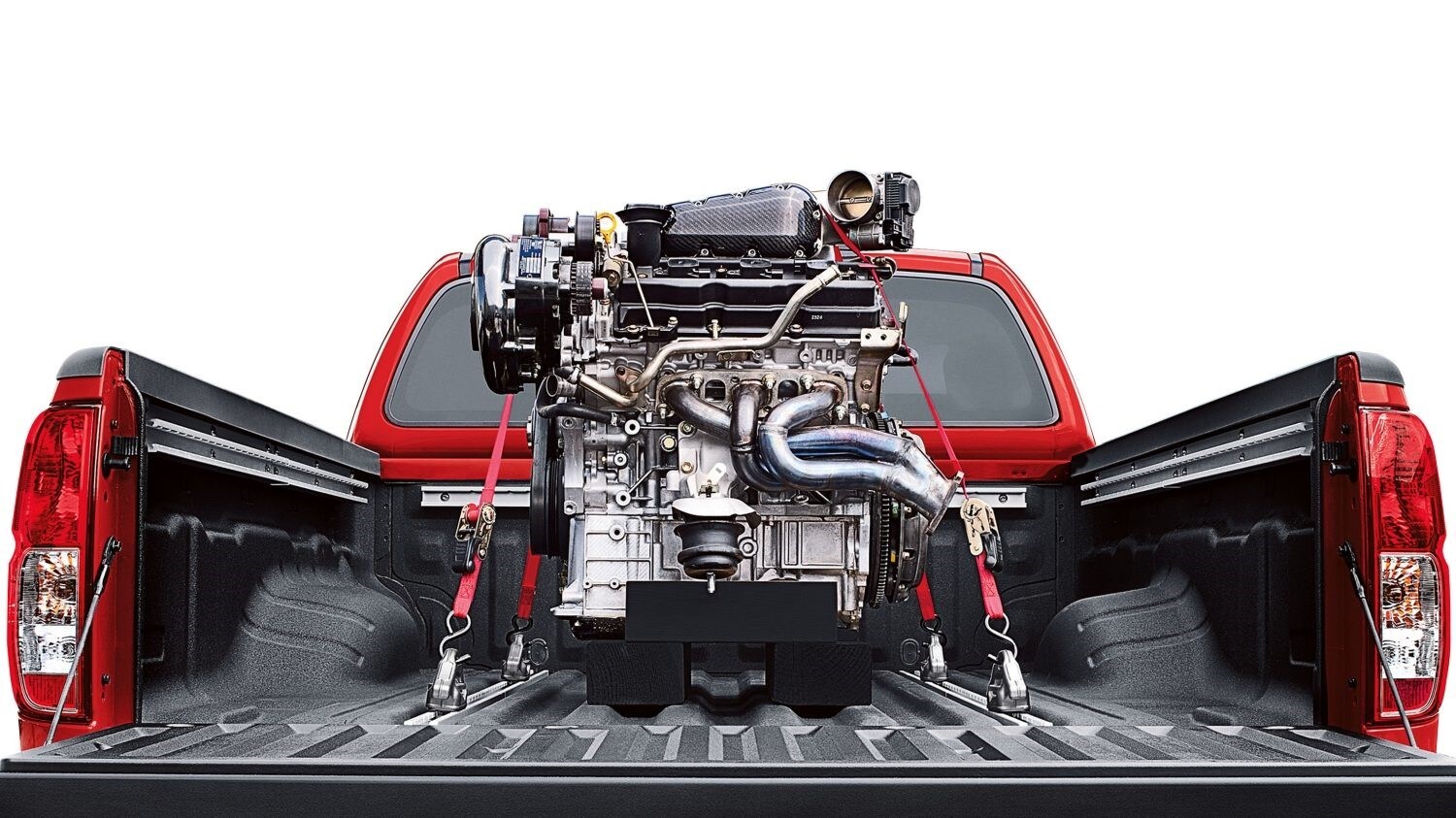 5) Tow & Go
Featuring a hearty 4-cylinder that pushes torque up to 171 lb-ft, the base Frontier trim levels are no joke when it comes to towing capability (max 3,760 lbs). That's better than what's offered by its biggest competitors, including the Chevy Colorado, GMC Canyon, and even the Honda Ridgeline. Blast onward with the available 261-horsepower V6, and you'll have enough torque (281 lb-ft) to tow around 6,710 pounds, as well as over 1,450 pounds of payload.
Due to its small stature, affordable price tag, and exceptional towing capability, the Nissan Frontier makes for the perfect Los Angeles landscaping truck. Attach a trailer to its hitch, load up the riding mower, and start beautifying those Beverly Hills lawns!
4) NissanConnect
Your crew needs to be connected to meet deadlines, and the 2018 Frontier gives them the perfect tool to get started down the right path: NissanConnect. This infotainment system, being heads and shoulders above most rivals' offerings, provides users with the following features:

Mobile Apps – Check into Facebook and Twitter. Listen to Pandora or iHeartRadio streams. Check TripAdvisor ratings on hotels. Everything is at your fingertips with NissanConnect Mobile Apps.
Nissan Navigation – Get pinpoint directions to every job, whether that's in downtown Los Angeles or up mile-long gravel roads north of San Fernando. This navigation system is powered by Google®, so you know directions are accurate to the inch.
USB & AUX Input – Plug in and play. Easy.
Bluetooth® – Easier yet, just connect your phone via Bluetooth to blast those tunes.
SiriusXM® Satellite Radio – Power through the long drives to and from jobs with your favorite SiriusXM DJs and talking heads.
Bright 5.8-Inch Touchscreen – This all works seamlessly through the 5.8" color touchscreen display.

?

3) Storage Galore-age
A truck in disarray is no truck at all. While its exterior can be as mud-caked as a mud cake, any truck worth its weight in doubloons should at least have its cabin in order—especially when on the job site. With the 2018 Frontier, your crew will have ample storage solutions to ensure every project is organized, such as:
A deep, multi-level central storage compartment that offers room for phones, small tools, and small tablets;
A bi-level glove compartment that keeps all your on-the-job tools separated from your vehicle registration slip and Nissan fleet documents;
Removable storage trays under the rear seats, which utilize cargo nets to keep each expensive piece of equipment in place.
The new Frontier commercial truck also comes with five bed-mounted rails—the most in its class, by far—that secure payloads with little fuss. Just click them into place, ratchet up the tension, and drive into the sunset.
2)
Tops in Safety
Getting work done is secondary to keeping your workforce protected, especially when they're in transit or at a job site. Although trucks of the past have offered lackluster passenger security—which is one reason we recommend upgrading your old commercial truck fleet—the modern commercial pickup is safer than ever before.
Included in the 2018 Frontier, for instance, are some of the best new driver-assist and safety features to be found in its class, including:

Anti-lock Brakes (ABS)
Electronic Brake Force Distribution (EBD)
Traction Control System (TCS)
Vehicle Dynamic Control (VDC)
Advanced Air Bag System
Zone Body Construction
Tire Pressure Monitoring (TPMS)
RearView Monitor
Rear Sonar System
Auto-dimming Rearview Mirror
Siri® Eyes Free
Energy-absorbing Steering Column
Nissan Vehicle Immobilizer System
Nissan's commitment to safety made it possible for the last Frontier model to earn the J.D. Power Award for Highest Ranked Midsize Pickup in Initial Quality.?

1) Off-Roading Master

Frequently find yourself chugging up and along the knolls of Hollywood, praying that your truck won't turn those steeply graded hills into a disastrous Slip 'N Slide? We understand your frustrations: there's no worse or more fearful experience than feeling truck tires spin and twizzle at the top or bottom of a hill.
That fear fades quickly once you start navigating those familiar Hollywood hills with a 2018 Nissan Frontier. As an off-roading champion of the highest caliber—it's maximum ground clearance of 10.1 inches is far superior to other similarly equipped work trucks—the new Frontier brings its 4x4 A-game everywhere it goes, even with a full payload.
First, there's the Active Brake Limited Slip system, which senses tire-to-asphalt friction within a fraction of a second. When slippage is detected, the system applies the brakes and diverts power to the appropriate wheels, ensuring your heart never skips a beat at the notion of plunging off a cliff.
Similarly, the Frontier's Hill Start Assist and Hill Descent Control systems give you added confidence. With Hill Start Assist deployed, the Frontier will maintain its position while you switch from the brake pedal to accelerator. Hill Descent Control, working in unison with 4WD mode, automatically maintains your downhill speed.
With the Frontier's system of drive modes, you can choose when and where to make the truck sweat. For "light" off-roading, 4WD High gives you the right mixture of bounce and rigidity. Click on 4WD Low when approaching muddy hills, icy ramps, or sand. When you get back onto the 405, pop your Frontier into 2WD to get the most out of its 23 MPGs. You're in charge of your work truck, especially when your work truck puts you in charge.
Build Your Fleet of Frontier Trucks in Van Nuys
There's no question as to why so many small businesses are jumping on the Frontier bandwagon when they need new fleet trucks. Affordable, efficient, and versatile, the 2018 Nissan Frontier reigns supreme. Come speak with our Nissan of Van Nuys commercial dealers to get a quote on your fleet of work trucks near Los Angeles. Contact us to begin building your Frontiers or ask about commercial truck TRAC lease options and our current Van Nuys Nissan offers.
Sources & Photos:
https://www.nissanusa.com/vehicles/trucks/frontier/