35 Cars with The Best MPG in 2019
Nissan
Leaf - 124/99 MPG (equivalent)
A completely battery powered car with a kick, the Nissan Leaf goes the distance without having to visit the pump.  With well over 100-mile range on a full charge, the leaf doesn't leave much to be desired. And the world's best selling electric car keeps getting better with its model e+, which offers close to 200hp with a range of 226 miles (coming to the US this spring).
Rogue Hybrid - 35/33 MPG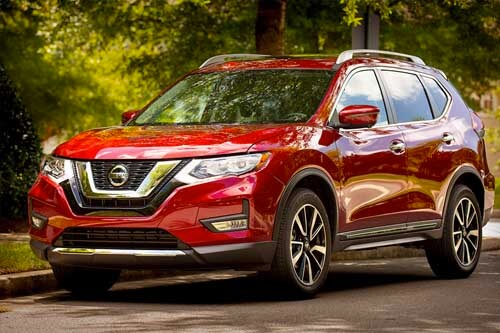 With a sizeable battery and regenerative braking, the Rogue combines efficiency with style in the compact SUV category. It offers a smooth ride, spacious cabin, and one of the best fuel economies in its class.
Versa - 39/31 MPG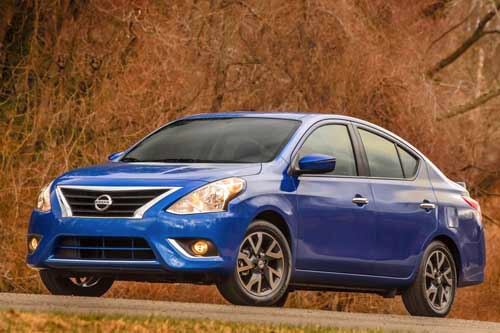 Available as a sedan and hatchback, the Versa strikes a balance between space and value. With good cargo and passenger room for its class, it handles turns without a hitch. Affordable as it is stylish, the Versa comes in at just above $12,000.
Sentra - 37/29 MPG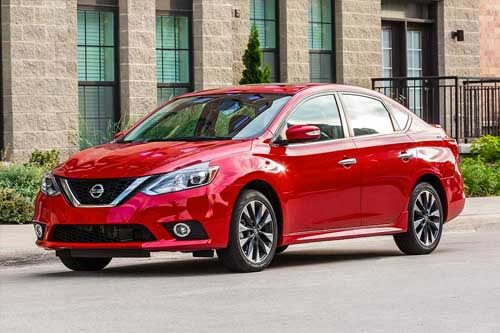 With its stylish and sporty design, detailed interior, and plenty of cargo room, it's easy to see why the Sentra is one of Nissan's best selling models. A modest engine doesn't mean performance suffers as its 1.8L offers a punch that Nissan is known for.
Altima - 39/28 MPG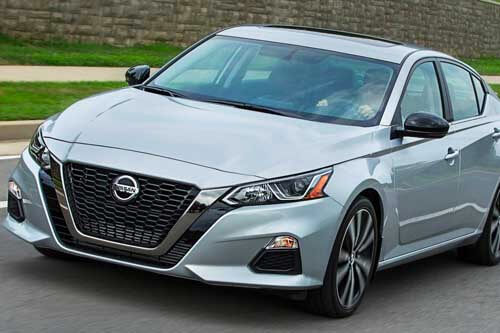 Built with high strength steel and aluminum, the Altima continues to be the lightest midsize sedan in its class. Now with all-wheel drive and refined steering, the new model promises a driving experience to remember. The standard 2.5L offers plenty of punch while offering top fuel efficiency.
Toyota
Mirai - 66/66 MPG (equivalent)
As a mid-size hydrogen fuel cell car, it's the first of its kind. It's hydrogen-powered which means it uses the reaction between hydrogen and air to produce electricity leaving only water to waste. Averaging an equivalent 66mpg combined with fuel stipends up to $15,000 for the first 3 years, it's a car that's both cutting edge and environmentally friendly.
*Note: Only sold and leased in California where hydrogen fueling stations exist.
Prius - 54/50 MPG
For the past decade, the Prius has led the way for fuel-efficient cars.  The unmistaken design has since been reworked and expanded. In addition to the standard line of Priuses, there exists a more affordable Prius-C and a range extending Prius Prime.  All said, this model brings the reliability of Toyota with the remarkable fuel efficiency that it's always been known for.
Camry Hybrid - 50/48 MPG
The king of the midsize has gotten even better. Long known for its reliability and lively powertrain, the Camry doesn't disappoint when it comes to the fuel efficiency of its hybrid model.  With award-winning design and sleek interior, it's the envy of its class.
Avalon Hybrid - 44/43 MPG
The luxury model of its make takes a leap forward with a hybrid option. A smooth ride and a roomy interior make the Avalon an attractive option for anyone looking for a large sedan. Its fuel economy boasts 18 mpg more than the non-hybrid version.
Yaris - 36/30 MPG
Formerly marketed as the Echo, the Yaris comes in both sedan and hatchback models. Attractive as it is nimble, the interior comes with plenty of standard features. A perfect car for commuting to school or work while saving plenty at the pump.
Kia
Optima - 37/27 MPG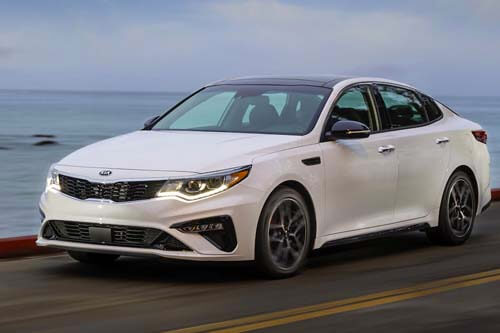 The standard model comes feature-packed with impressive storage capacity and innovative safety technology. Its stunning design is complemented by a speedy engine and tight handling which makes the Optima one of the most well-rounded midsize sedans around.
Forte - 41/31 MPG
Ranked as the top compact car by U.S. News & World Report, the Forte excels in offering a spacious interior, superb safety technology, and great fuel economy. Get the feel of a mid-size without spending more.
Rio - 37/28 MPG
Fun-to-drive with nimble handling, the Rio makes for one of the most exciting subcompacts on the market. Rivaling the Honda Fit in all categories, its peppy engine and excellent reliability make the Rio a serious value for anyone looking at a smaller, more fuel-efficient car.
Niro - 52/49 MPG
As a gas-sipping hybrid, it's best in class.  Beating out both the RAV4 and CR-V in fuel economy, the Niro blends head-turning design with sporty performance and great reliability.
Soul - 31/26 MPG
This distinct looking Kia happens to be one of the top-ranked compacts. The Soul has built a growing reputation for its exceptionally large cargo area and surprisingly upscale cabin for the price.  While it doesn't have the best mpg for its size, the top safety ratings and generous warranty more than makeup for it.
Hyundai
Elantra - 40/32 MPG
Looks can be deceiving, but the Elantra compliments style with substance in this year's model. Plenty of cabin room and onboard technology makes driving a joy. With four trims to choose from, you can find the right balance between performance and efficiency without sacrificing eye-catching design.
Ioniq - 59/57 MPG
Beating out its rival, the Prius, in fuel efficiency is no small task. Equipped with plenty of tech features and attractive styling, it leaves all others in its wake. With a spacious storage compartment and excellent drivability, the Ioniq is a hybrid to be remembered.
Accent - 38/28 MPG
A small car with big ambitions. The Accent offers a smooth and comfortable ride unusual for a car its size. The roomy interior coupled with an exceptionally long warranty shows why this car is a great value.
Sonata Hybrid - 46/40 MPG
Among the sea of midsize sedans, it's tough to stand out. But the Sonata does just that with impressive standard features, luxurious interior, and excellent safety ratings.
Veloster - 34/28 MPG
A stand-out in the looks department, the Veloster backs it up with a high tech cabin, plenty of cargo space, and precision handling. This model offers five trims that provide extra amenities and performance as needed.
Honda
Fit - 40/33 MPG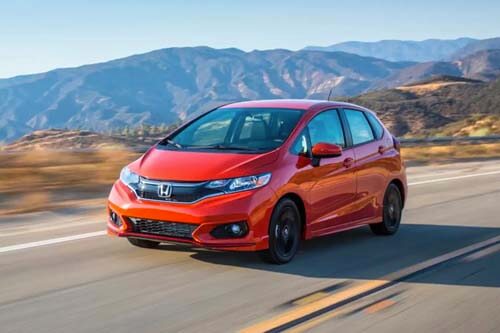 A hatchback that needs no introduction, the Fit is an all-around performer when it comes to fuel-efficient subcompacts. Sporting a number of standard features, generous interior, and plenty of cargo room, it's no surprise that this nimble model leads the pack.
Insight - 55/49 MPG
Back with a vengeance, originally the first hybrid in its class, the Honda Insight brings the flare with impressive fuel efficiency.  In classic Honda style, this model is well-rounded with surprising pop off the line for a hybrid, conventional sedan styling, and a roomy interior.
Accord Hybrid - 48/48 MPG
This hybrid version brings all the features from the classic model such as responsive handling, excellent acceleration, spacious cabin, and plenty of technology to help keep you safe. A top mid-size just got better.
Civic - 42/32 MPG
A perennial contender for compact car supremacy, the Civic brings the same all-around performance of past models but with added features such as the Honda Sensing bundle that now comes standard.
HR-V - 34/28 MPG
A stylish subcompact with excellent fuel efficiency, the HR-V offers plenty of room inside. Nimble handling and a convenient infotainment system make this the perfect daily driver.
Ford
Focus - 40/30 MPG
The Focus comes in both sedan and hatchback body styles. While known as a fun-to-drive and agile compact, it also has plenty of reliability.  And with a variety of powertrain options, you can boost your model however you'd like.
Fusion - 34/23 MPG
As Ford's flagship sedan, the Fusion exudes class with an elegant interior, tight handling, and a comfortable ride. Added safety features and plenty of trim options make it a contender in an already loaded mid-size class.
EcoSport - 29/27 MPG
As a subcompact SUV with full-size aspirations, the EcoSport delivers with plenty of cargo room, excellent driving height, and balanced handling. A comfortable ride and impressive towing capacity make it hard to pass up.
C-Max - 42/38 MPG
Ford's fuel-efficient wagon makes a showing as a spry hybrid that's agile around corners and roomier than expected. An attractive interior coupled with ample seating make it a top consideration.
Fiesta - 37/27 MPG
Always the fun one in the group, the Fiesta serves up tight cornering and agile maneuvers through traffic. Being incredibly quick, especially with the sport trim, makes for a ride to remember.
Chevy
Bolt - 128/110 MPG
As the Motor Trend Car of the Year and California's best selling subcompact, the Bolt offers range only higher end Teslas can match at a fraction of the price.  With plenty of power and a 0-60 in 6.5 seconds, it's easy to see why the bolt is America's favorite electric car.
Volt - 42/42 MPG
With best-in-class, all-electric range, spacious storage, and punchy powertrain, the Volt warrants a closer look.  This mid-size offers an impressive cabin without the design compromises of a typical hybrid.
Cruze - 48/31 MPG
As one of the most fuel-efficient compacts, the Cruze doesn't skimp on amenities. With generous standard features and a spacious interior, it might be the perfect commuter car.
Malibu - 36/29 MPG
A beautiful sedan, the Malibu offers all the treats you expect in a mid-size along with its legendary powertrain.  With five different trim options, you can get ground-breaking performance at any level.
Equinox - 39/28 MPG
Known for its exceptional handling and smooth ride, the Equinox offers an impressive cabin and plush seats. Four trim options with the lowest still providing all three powertrain options make this Chevy tough to pass on.
How to improve your car's fuel efficiency
No matter what your current MPG may be, chances are you can save a few more bucks at the pump.
There are three main factors that affect fuel efficiency: the type of traffic and roads you encounter on a typical trip, your car's characteristics, and your driving habits.
Common Commute
Does your normal commute involve climbing hills, traversing snow, or crawling the 405?
If so, your actual MPG may be lower than you think.
However, a commute down a non-congested highway at a steady 60 MPH would likely provide better mileage than expected.
Extra Baggage
A cluttered trunk can add unnecessary weight to your car.  An out-of-use roof rack can introduce countervailing drag.
Remember that heavier car requires more energy to move from a stop so they typically do much worse in traffic and city streets.
Driving Habits
The main idea is to conserve any energy you create on the road. This can be done by keeping your distance and easing off the gas pedal as opposed to braking.
Gradually accelerating helps as well.
Whether you drive a hybrid or a heavy-duty half-ton, there are always things you can control to make your vehicle more fuel efficient.